Front End Loader and Excavator Weighing Systems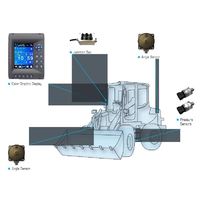 This product is the result of many years of experience in the front end loader weighing field.
It is essential for quarries and mines without weigh bridges or is ideal as a backup when the loading area is far from the weigh bridge.
The front end loader weighing systems speed up the loading operation and achieve maximum filling capacity of the truck and avoid truck over loads and under loads as well as reducing laps to weigh bridges.
Weighing accuracy can be within 1%.
The system stores and manages daily totals and can track different materials on the same truck.
Dynamic and static systems are available.
Options such as printers and data management software are also available.
or call 03 9792 2243